Fall Color Reflections.
Fall colors reflect on Jarvis Lake in William A. Switzer Provincial Park in Alberta, Canada near Hinton.
Athabasca River Sunrise.
Perhaps the most beautiful sunrise I have ever seen. Color in the sky is provided by nature, not me. I was just lucky enough to be there.
This is along the Athabasca River just south of Jasper, Canada.
Clouds on fire.
There is a restaurant just behind where I am photographing. All the patrons as well as the employees stood in the parking lot to enjoy this sunrise. the colors in the sky lasted almost 20 minutes.
Mountains along the Icefield Parkway.
The Icefield Parkway stretches from Banff north to Jasper in Alberta, Canada. It is said to be one of the most beautiful drives in the world. I will not argue with that thought. Railroad tracks wind along the Athabasca River.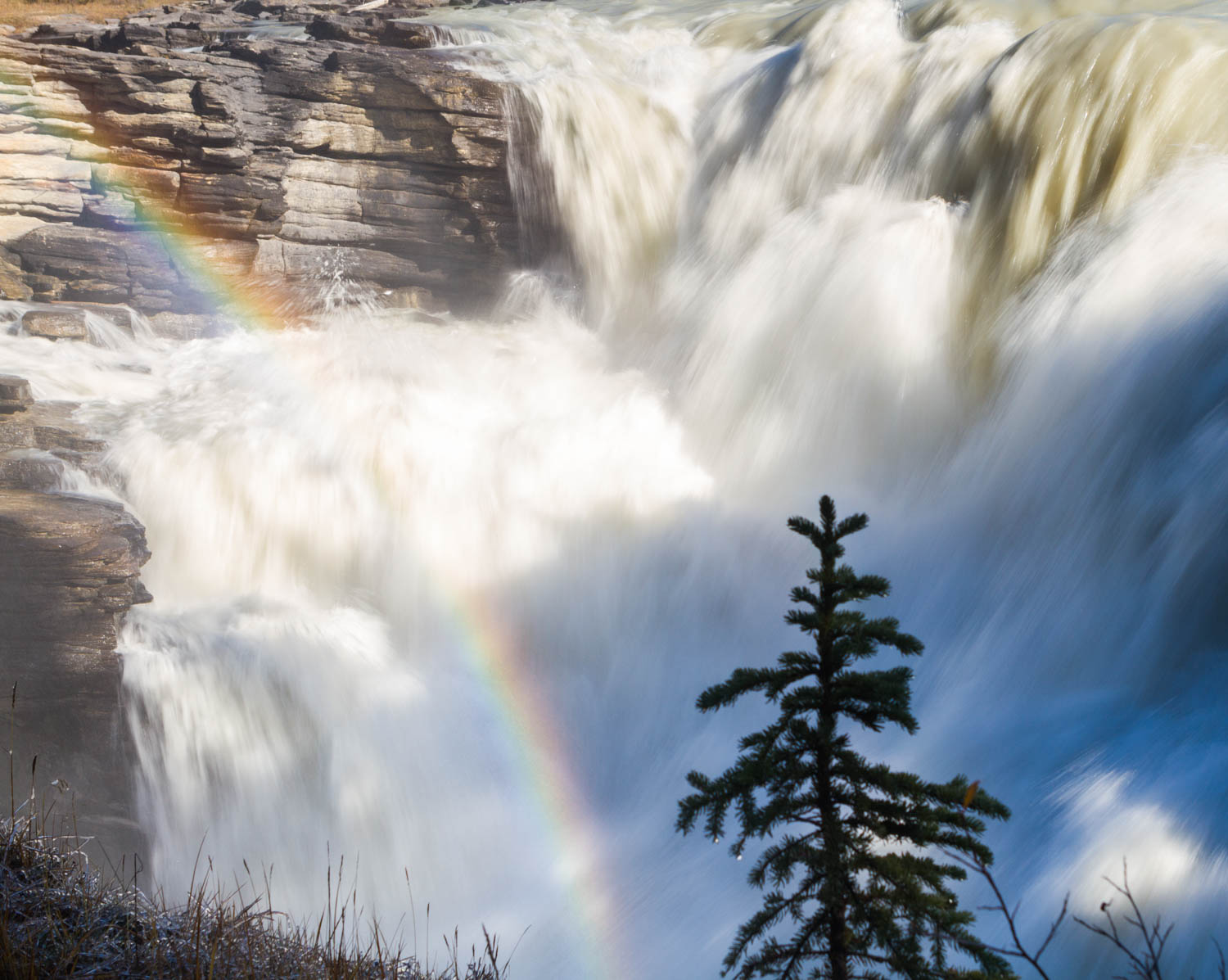 Athabasca Falls rainbow
Athabasca Falls lies about 20 miles south of Jasper, Canada. The river is very powerful and the water is thunderous. The mist creates a beautiful rainbow.
A Boat Dock on Maligne Lake.
Early morning fog floats lazily over Maligne Lake in Alberta, Canada. The only one with me on this day was a large moose off to the right.
Lake Louise
The emerald colored Lake Louise is surrounded on three sides by towering mountains. The famous Fairmont Lake Louise hotel is located on one end of the lake.
Sunrise over the Mountains
Warm color bathes the sides of the distant mountains near Banff.
Morning Alpenglow
Morning alpenglow lights up the mountain tops near Canmore.
Morning Alpenglow 2
A vertical photo of alpenglow in the early morning lighting up the tops of mountains near Canmore, Alberta, Canada.
Emerald Lake
Emerald Lake in Alberta, Canada. The emerald green of the lake is caused by powdered limestone suspended in the lake.
Canmore Sunrise
Canadian sunrises are something to be experienced. The color in the clouds and the alpenglow can last for several minutes.
Fire in the Sky over Alberta
Brilliant colors light up the sky in the early morning in Alberta.
Moraine Lake Morning
Alpenglow reflects on Moraine Lake in the early morning. Moraine Lake Lodge is off to the right by the canoes. The Lodge is wonderful with an excellent restaurant.